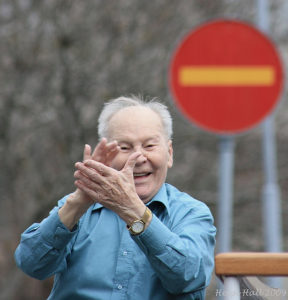 Thanksgiving is one my favorite holidays.
Not only does it bring my family together for great food and company, it also serves as trip wire to reflect on the year and all the things to be grateful for.
These days, in this era of busyness, it's so easy to go from one task to the next without taking time to appreciate what we have and what we've done. To stop and self reflect almost seems like a waste of time.
Deep down we know it's important to be grateful. The reason we don't do it more often, besides forgetting, might be because we see it more as an obligation rather than a benefit. When you act out of responsibility as opposed to desire, motivation wanes. No one looks forward to meeting an expectation unless they can see a real advantage for doing so.
For those of you who know of, believe in and have reaped the benefits of gratitude, feel free to stop here and take a few moments to give thanks for your year. For those of you finding it difficult to show sincere gratitude, perhaps the following benefits can get you started:
Benefit #1 - It makes you happier.
When you give thanks, you're acknowledging that good things happen to you.  The more you do it, the more you realize how lucky you are. It helps your mind highlight and focus on the great things that are happening in your life. This sensitivity will make you happier than if you adopt the more common "complainer mindset". When you complain, you prime your brain to draw its attention to the bad things happening in your life.
It's all about perspective.
We all have our share of positive and negative events in our lives, by being more grateful we consciously choose to focus on what's going well which unsurprisingly makes us happier and more optimistic. Where you focus your attention is your reality.
Take Action: Write down three things you're grateful for everyday. Use your smartphone or a small notepad.
Benefit #2 - It improves your health.
Research shows that those who often express gratitude and appreciation are more relaxed, sleep better and have stronger immune systems.  If you want to be healthier, find more ways to give thanks.
Take Action: Verify this claim for yourself
Estimate how many sick days you've taken on average each year
Start being noticeably more grateful beginning this coming January
At the end of next year, note how many sick days you took the this year and compare it with the number of sick days you took during your "year of gratitude"
If it works for you, keep it going and consider giving even more thanks
Benefit #3 - It enhances your reputation.
When you show sincere appreciation, other people are more inclined to help you because they know you'll be grateful to them. Think of the last few times you helped someone and they were appreciative.
How did it make you feel? How likely would you help them again?
Now think of a situation where people felt entitled to your help and was not grateful. How did you feel then?
If you build a reputation of being grateful, you'll get the support you need when you need it.
Take Action: Write a letter, email or thank you note to someone who's had a positive impact on your life this year and send it to them. Repeat as often as you can.
You now have three good reasons along with simple action steps you can take to be more grateful. For those of you who still don't feel like giving thanks, you may want to do it anyway.
One more thing ...
For those of you adept at thanking others, remember to thank yourself. It's easy to forget all the things you have done for you. This is especially true if you are humble. Take time to appreciate yourself and the hard work you've put into achieving your goals and making your life better. Think about all the sacrifices you've made to live the life you have now. Thank yourself for making it happen.
For those of you who've read this far - thank you.
Photo by Helgi Halldorsson
Robert Chen is the founder of Embrace Possibility and author of The Dreams to Reality Fieldbook. He helps people who feel stuck move forward by guiding them to see other possibilities for their lives. He specializes in working with high performers get to the next level. If you're going through a tough time right now, check out Robert's article on How to Feel Better Right Away and if you're having trouble getting what you want out of life, check out How to Always Achieve Your Goals.
More Posts - Website - Twitter - Facebook - LinkedIn - Pinterest - Google Plus - StumbleUpon - YouTube