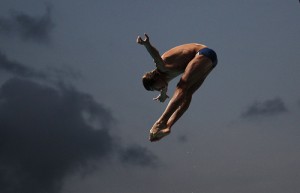 This is the final article of the How to Turn Dreams into Reality Series.
If you haven't read Part 1 - Setting Proper Goals or Part 2 - Creating an Effective Plan or both, I recommend that you read them before moving on.
By now, you should have a proper goal set and a plan to achieve that goal. If you don't, I encourage you to take some time do that now.
With your properly set goal and well thought out plan, you are finally at the point where your dreams will become reality but before you get what you want, there is one thing you must do:
Take Action
This is both simple and difficult. Simple because you just follow your plan. Difficult because so many things get in the way. The key thing to remember is without action, your dreams will stay dreams. Even though thoughts, ideas and plans are necessary, without doing anything, you would not realize your dream. Your ideas will remain ideas and your plans will remain plans.
So what can possibly get in the way between you and your goals:
Not Having Enough Time
You already have a busy schedule. Work is unpredictable and sometimes it is just too tiring to work on your goals after a long day's work.
How can anyone blame you for wanting to just relax?
Rest is important right?
If you set a goal that is relevant, broke your goal down to daily tasks and tested your plan's feasibility, you really shouldn't be having this problem.
If you do have this problem, there is one fix:
Make Time for Your Plan
Carve out a specific time each day to work on your plan. Make sure to give yourself some extra time. In the beginning, take the energy you would normally spend to make excuses and channel it into doing your plan at the specified time. Once you've built the good habit, things become easier.
Waiting for the Right Time
It's never going to be the right time. Get over it.
Be flexible enough to make adjustments along the way. Think homing missile.
This also goes for waiting for the right people.
Ready, Fire, Aim.
Procrastinating
"Tomorrow is often the busiest day of the week." -Spanish Proverb
For some reason, it's easy for us to put things off until tomorrow. For every reason to do something now, I can come up with ten reasons why I should do it later. Maybe it's laziness that stems from a incompetence or stress from being overwhelmed by uncertainty but whatever the reason, procrastination is the enemy of execution.
A nice fix against procrastination is:
Just getting up and doing it. (The long version of the Nike slogan)
For those interested in going in-depth into the reasons for procrastination and how to overcome it, check out Steve Pavlina's article. For a shorter and more hands-on guide, check out The 8 Most Practical Ways to Stop Procrastinating.
Not Knowing What to Do First
Different tasks take different priorities at different times.
Be clear on what should be done FIRST and do that thing FIRST.
As you are executing your plan, you may find that you lose sight of what your top priority is. When that happens, think about the outcome you want to achieve and make sure that your current daily task reflect the most important actions that will help achieve that outcome. If you have trouble deciding, try out one of these prioritization methods. For those of you find it hard to prioritize because everything seems important, check out this lifehacker article.
Losing Interest
How many dreams have been abandoned because interest was lost during execution?
It is always exciting to think about the possibilities of achieving your goals and the rewards after you fulfill your dreams but what should you do when you begin to get bored before you reach the finish line?
Revisit Your WHY Often Through Mental Rehearsal.
When you set your goals, you made sure that your goal was relevant to your vision and purpose. Mental rehearse what it will be like to achieve your goal. Engage all the senses. What will you see? hear? feel?
Now check to make sure that you are doing the task that will have the biggest impact in achieving that vivid outcome. Extrapolate your action into the future. Will you get what you want if you keep doing what you're doing?
Another point to keep in mind is that some people lose interest when they begin to lose faith. When they don't think they can achieve their goals, their interests wanes. If you are having a faith issue, read How to Always Achieve Your Goals.
A Bonus!
I mentioned this in Part One already but it is worth emphasizing.
The difference that is going to make all the difference is ...
... get a pen and paper ready because this is important ...
Tracking Your Progress in Writing
In addition to tracking your daily progress (here is a free online habit tracker), ask yourself on a weekly basis:
1. Am I able to work towards my goal daily? If not, what is getting in my way?
2. Is the goal still relevant to my vision and purpose? How is it relevant? Is it still the most impactful thing I can be doing to realize my vision?
3. Am I getting the outcome that I want from completing this goal?
Write those answers down.
Once you reach your goal (notice that I use "once" and not "if"), reward yourself.
Take time to recognize and appreciate yourself for going for and getting what you want.
This memory can serve to motivate you in future endeavors. Take time to review your lessons learned so you can achieve future goals more effectively.
You now have the basic framework you need to turn your dreams into reality and get anything that you want. Feel free to share your goals, plans and progress. I would love to hear how you do.
I hope you enjoyed this series!
Photo by An Honorable German
Robert Chen is the founder of Embrace Possibility and author of The Dreams to Reality Fieldbook. He helps people who feel stuck move forward by guiding them to see other possibilities for their lives. He specializes in working with high performers get to the next level. If you're going through a tough time right now, check out Robert's article on How to Feel Better Right Away and if you're having trouble getting what you want out of life, check out How to Always Achieve Your Goals.
More Posts - Website - Twitter - Facebook - LinkedIn - Pinterest - Google Plus - StumbleUpon - YouTube