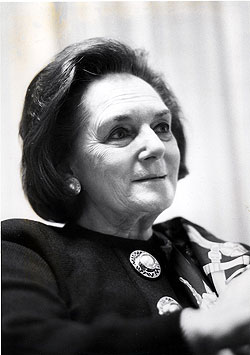 (For those of you who are not familiar with this series or the benefits of modeling success, please read the beginning of this post)
This third interview of the Modeling Success Series reminds me why I love what I do and how much I enjoy meeting and learning from extraordinary people. I came away from this particular interview reinvigorated towards living my passion. The person who had such an energizing effect on me was Frances Hesselbein, President and CEO of the Frances Hesselbein Leadership Institute.
Ms. Hesselbein was also the former CEO of the Girls Scouts of the USA and recipient of countless awards including the Presidential Medal of Freedom, the highest civilian award in the United States. As I entered her office overlooking Park Avenue in New York, I couldn't help but notice her wall, covered in either books or honorary doctorates. She must have noticed because she started our journey together with this story:
Audio - Honorary Doctorates Story - 0:32
After thanking her for allowing me to be a fellow traveler that morning, Ms. Hesselbein enlightened me with her personal definition of success. She knows she is successful when she lives by her main rule of conduct (which she jokes is tattooed on her shoulder with invisible ink):
To Serve is to Live
On that front, she's certainly been very successful.
She also lives by two of Peter Drucker's wisdoms:
"Think first. Speak last."

"Ask. Don't tell."
Simple instructions that lead to a life of success. I've added these 3 principles to my own rules of conduct and have seen great results both personally and professionally. Speaking last has been especially helpful.
Successful people rarely achieve success on their own. Behind every great person is a vast network of people willing to help. To be extraordinary, it is crucial to connect and collaborate with other extraordinary people. Listen to the next audio to find out good ways to connect with like-minded people and leaders.
Audio - Connecting with Leaders - 0:37
The last piece of advice in that audio is to "find great excitement in moving beyond the walls".
Walls protect.
They also limit.
To make an impact in the world, we have to step out of our "walls". We need to leave behind what is safe and familiar to create new paths for ourselves and others to follow. This is not easy and most people stay within their self-imposed boundaries or those set by society. Great people usually have the same boundaries as ordinary people. The difference is great people choose to step across it.
One question that I often ask successful people is:
What do you do when you're not making progress fast enough?
I enjoyed Ms. Hesselbein's answer very much. Listen for yourself in the audio below.
Audio - Progress Too Slow? - 1:26
When was the last time you compared your results with your activity to decide which tasks are truly important to do?
If it was a long time ago or you've never done it, take time to thoughtfully reflect on your results and tasks today. Which activities really matter and which are just nice to do?
Times are always changing and what worked for you today will not work for you tomorrow. Be flexible by challenging yourself and your actions. Keep yourself accountable by being critical of your own performance.
Listen to the audio below to learn what that means.
Audio - Be Critical of Yourself in a Good Way - 1:22
We then switched gears and I asked Ms. Hesselbein a question I get asked all the time by my clients:
"Should I take this opportunity?"
Again, she answered it in such a nice way that I'll rather you hear it from her directly.
Audio - Courage to Take Opportunities - 0:53
What will you use to test whether an opportunity is right for you?
Is your current situation furthering your mission? If not, are you willing to close the door and open a new one?
One of the major takeaways from this interview revolves around Ralph Waldo Emerson's quote:
"Be ye an opener of doors ..."
We learn everyday and it is our responsibility to share that with others. Think of ways today to open doors for other people. If you can't think of anything, start literally and move on from there.
Audio - Opener of Doors - 0:31 
To get more of Frances Hesselbein and her great advice, I highly recommend viewing Frances Hesselbein's Global Webinars and checking out other useful resources on the Frances Hesselbein Leadership Institute website.
During the end of my interview with Ms. Hesselbein, I noticed the view from her window was a gloomy one. It was raining and everything was gray outside. When I asked her what she sees outside of the window, her answer was ...
... a bright future.
This was the perfect example of "looking out the window and seeing what is visible and not yet seen".
Listen below to hear why she is so positive (hint: it is not because of her blood type).
Audio - A Bright Future - 4:42
So What Will I Model?
Respect everyone - shown by BOTH my actions and my words
Actively open doors for other people by sharing with them what and who I know
Live by my own definition of success and continuously find and take on other more resourceful rules of conduct such as:

To serve is to live

Think first, speak last

Ask. Don't tell.

Be mission-focused., values-based and demographics-driven.

Why do I do what I do?
What are my beliefs and am I sticking to them?
Who am I serving and how can I serve them better?

Connect with others by moving beyond my comfort zone
Examine what I'm doing to make sure it is important relative to my mission
Learn to be more flexible so when what works for me today stops working for me tomorrow, I can shift gears quickly
Close the doors on opportunities that don't achieve my mission and open new ones
Stay positive and be optimistic

What will you model?
Robert Chen is the founder of Embrace Possibility and author of The Dreams to Reality Fieldbook. He helps people who feel stuck move forward by guiding them to see other possibilities for their lives. He specializes in working with high performers get to the next level. If you're going through a tough time right now, check out Robert's article on How to Feel Better Right Away and if you're having trouble getting what you want out of life, check out How to Always Achieve Your Goals.
More Posts - Website - Twitter - Facebook - LinkedIn - Pinterest - Google Plus - StumbleUpon - YouTube