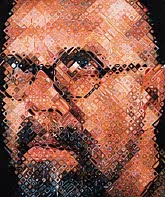 Imagine coming from a childhood where your teachers thought you were lazy and slow because you tested poorly (due to dyslexia), your peers alienated you because you were bad at sports and all the adults you live with fell ill or passed away before you became a teenager.
Most people would apply for the victim card at this point and blame anything negative they were doing or how their pitiful lives turned out on their childhood. Not Chuck Close.
He rose above these challenges through his passion for art and became one of America's most celebrated artists.
Chuck's story up until this point is inspiring enough and I wish I could end Chuck's story here with "and then he lived happily ever after" but I can't.
On December 7, 1988, Chuck had a spinal artery collapse while delivering a speech in New York that left him paralyzed from the neck down. He referred to this as "the event". Here was an artist who lost the physical ability to pursue his passion for art...
Would we blame him for giving up?
No, we wouldn't. It's hard enough to overcome one tragic event but two is too much. This sounds like the perfect time to rest on his laurels. At least he experienced success before this happened.
Did he give up?
No, he didn't.
He became resourceful. He didn't wallow in his unfortunate situation and reflect on why this was happening to him. He didn't tell himself that he has already accomplished more than enough with everything that has happened to him. He focused on how he can continue to pursue his passion.
This persistence fueled his creativity and led him to discover that he can make small paintings while holding the paintbrush with his teeth. After some intensive physical therapy, he regained some movement in his arms and strapping a paintbrush to his wrist with tape, he created large mosaic-form paintings that were just as popular as his work before "the event".
Check out some of Chuck Close's artwork by clicking here.
This is a great example to never give up. No matter what happens or what setbacks you have, continue to find ways to pursue your passion because there is always a way (Albert Einstein didn't give up either). It may not be the way you intended but as long you are pursuing your passion, it won't matter.
What roadblocks do you have in your life that is stopping you from pursuing your passion? Are you focusing on your bad luck or are you being resourceful and thinking about how to pursue your passion despite these roadblocks?
If Chuck can do it, so can you.
If you want to hear more about Chuck Close's story from Chuck himself, check out Chronicles of Courage: Very Special Artists where Chuck Close speaks candidly about how his disability impacted his life and work.
Robert Chen is the founder of Embrace Possibility and author of The Dreams to Reality Fieldbook. He helps people who feel stuck move forward by guiding them to see other possibilities for their lives. He specializes in working with high performers get to the next level. If you're going through a tough time right now, check out Robert's article on How to Feel Better Right Away and if you're having trouble getting what you want out of life, check out How to Always Achieve Your Goals.
More Posts - Website - Twitter - Facebook - LinkedIn - Pinterest - Google Plus - StumbleUpon - YouTube