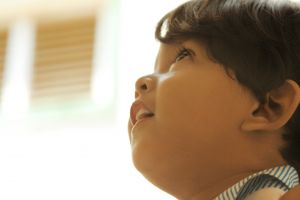 I was at a baby shower yesterday and I realized something very powerful.
Babies always end up achieving their main goals in life. They learn to walk, to talk, to count, etc.
As we get older, we seem to achieve less and less of our goals. Some may argue that "adult" goals are harder but are they really?
As a baby who has never walked before, is it really easy to achieve walking? If you've ever watched a baby learning to walk, you can see that there is a lot of effort that goes into it. They get up, steady themselves and then try to take their first step just to stumble right back to the floor.
But do they quit? Of course not. They keep trying for days even months until they can finally walk.
What is interesting is that almost every baby I know eventually learns to walk (I did it, my brothers did it, my wife did it and you've probably done it). We were all born with the ability to achieve what we want so why do we end up quitting on our goals and achieving less when we get older?
One of the main reasons is:
We no longer believe it WILL happen.
As children, we didn't doubt whether we would eventually walk, talk, count, etc. We just kept trying until we achieved it. People all around us encouraged us in our endeavors and no one told us that it couldn't be done. We truly believed that our success was a foregone conclusion. As long as we kept trying, we would achieve what we set out to do.
Contrast that with our experience in adulthood where people are constantly telling us what is impossible and I am not going to tell you how many scoffs and/or sarcastic comments I get about being too idealistic when I talk about my dreams.
When was the last time you believed any result was a foregone conclusion?
And that is the difference. If you want to start achieving your goals (becoming wealthy, losing weight, finding a your dream job, etc.), you need to truly believe that if you keep at it, you will get the results you want.
But how do you know if what you're doing is going to help you get what you want? What if you are wasting your energy doing the wrong thing?
Well, how does a baby know what to do to begin walking?
The answer is they don't.
A baby learns by doing, looking at the result, adjust their action according to the feedback they get and repeat until they get their goal. They don't do a lot of strategic thinking or planning. If you don't believe me, take some time and observe babies.
No matter what your goals are, here are three ways to make sure you achieve them:
Surround Yourself with Proof
It is much easier to believe that our success is inevitable when we surround ourselves with people who have achieved what we want to achieve and being mentored by those who have taken the road we are planning to take. Babies are surrounded by people who walk and talk and do all the things they aspire to do, which strengthens their belief that they can do it. These very people (usually the parents) will help the baby achieve their goal by supporting them and making sure they don't learn how to walk near the staircase. If you don't already know people who have achieved what you want to achieve, find them and surround yourself with these people. Use your personal and professional network, attend seminars, conferences and Meet Up groups, read related biographies, etc. The more you surround yourself with evidence of success, the stronger your belief of inevitable success.
Keep Trying
When babies learn to walk, they try one way, "fail" then try another way. What makes them successful is that they persevere and keep adjusting until they get what they want. For myself, there are many times when self-doubt creeps in and I question whether spending all this time and effort is worth it. I get through this period of doubt by remembering that if I keep taking action, reviewing the feedback, making adjustments and repeating the process over, I will achieve my goal. My results alone tell me whether I am doing the right thing or not. If not, then I will adjust my actions. I just have to keep in mind to distinguish between ineffectiveness and delay (click here to learn how). Winston Churchill was right on when he said "never, never, never give up".
Ignore the Naysayers
As we get older, the number of skeptics, cynics and pessimists seem to grow. As babies, we were surrounded by people confident in our success and willing to help us along the way. It is because they have already achieved what we are trying to achieve so they know it can be done. As our goals get loftier, there are a lot fewer people who have achieved what we want to achieve so the natural reaction is to be skeptical and to dissuade us from continuing on because they truly believe it is not possible. This is dangerous for us because we do get influenced by those around us whether we like it or not and their doubts create doubts in our own beliefs. The best way to deal with naysayers is to ignore them and stop being around them altogether. When someone tells me all the reasons why reaching my goal is not possible or that I can't accomplish it (and we all know there is no such thing as the word "can't"), I make a mental note to cut ties with that person which brings me back to the first tip: Surround yourself with proof that it can be done.
An important lesson I learned was that my plan doesn't have to be perfect. I just have to take action and see what the results are. If it is positive, I will do more of what I'm doing. If it is negative, I'll do something different. The key is to persevere and keep trying until you reach your goal and the only way to do that is having faith that your success is a foregone conclusion.
What goals are inevitable for you?
Robert Chen is the founder of Embrace Possibility and author of The Dreams to Reality Fieldbook. He helps people who feel stuck move forward by guiding them to see other possibilities for their lives. He specializes in working with high performers get to the next level. If you're going through a tough time right now, check out Robert's article on How to Feel Better Right Away and if you're having trouble getting what you want out of life, check out How to Always Achieve Your Goals.
More Posts - Website - Twitter - Facebook - LinkedIn - Pinterest - Google Plus - StumbleUpon - YouTube