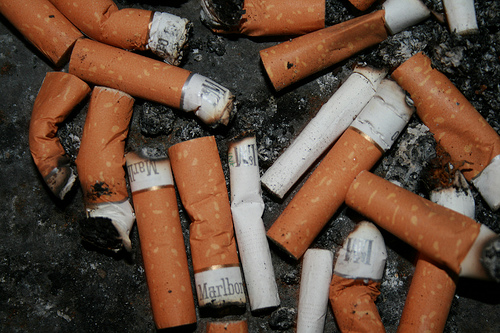 Being late.
Smoking.
Procrastinating.
We all have bad habits that we want to change. What's frustrating is that we recognize that it's bad for us and clearly see the negative consequences and yet we're powerless to stop it. We see examples of this all around us and it's not wonder why so many people give up trying to break their bad habits.
This article will provide you an important insight for conquering your bad habits. Before I tell you what it is, I need to disclose some good news and bad news:
The good news is that you'll find out what you've been missing to help you break your bad habits.
The bad news is that when you apply this method to break your bad habits, you won't have any more excuses for living a mediocre life. You'll have to live your life to the fullest.
If you're okay with that, read on.
Before we start, what is the bad habit that you want to break?
Keep that habit in mind while you are reading the rest of the article. Don't move on until you've chose a bad habit. I will use procrastination as an example.
The usual approach for breaking a bad habit is to apply brute force. We use discipline and willpower as our tools to fight temptation. We tell ourselves that it will be different this time around. This method usually works the first few times but unfortunately it doesn't last. If it did, you wouldn't be reading this article.
So what is the missing piece?
When dealing with bad habits, you need to recognize that ...
Everything you do has a POSITIVE intention.
That's it. It's about having compassion for yourself. Instead of beating yourself up for being unable to break the "undesired" habit, you need to understad that the "undesired" habit actually helps you in some way.
So think about your bad habit. What is the positive intention of your bad habit?
For procrastination, one positive intention is to prevent failure because if you don't start, you can't fail.
Once you've recognized the positive intention, it's time to get creative and think about alternatives to achieve the same positive intention. In the procrastination example, an alternative strategy to prevent failure besides procrastinating is to break down the activity into smaller more easily achievable pieces.
Now you know the positive intention for your bad habit, take a few minutes to find at least 3 alternative behaviors that meet the positive intention of your bad habit.
Once you have your alternatives, choose one and make sure it is something that you can do without any negative side effects. As long as the alternative behavior satisfies the positive intention, then you won't need to use your previous bad habit to achieve the positive intention. This makes the habit easier to break. The key is to correctly assess the positive intention and finding a better habit to fulfill that intention.
If you haven't used this method, try it and let me know how it goes. Feel free to share your methods for getting over bad habits in the comments section below.
As a bonus, for those of you who are always late, check out how to always be on time.
Photo by
wlodi
Robert Chen is the founder of Embrace Possibility and author of The Dreams to Reality Fieldbook. He helps people who feel stuck move forward by guiding them to see other possibilities for their lives. He specializes in working with high performers get to the next level. If you're going through a tough time right now, check out Robert's article on How to Feel Better Right Away and if you're having trouble getting what you want out of life, check out How to Always Achieve Your Goals.
More Posts - Website - Twitter - Facebook - LinkedIn - Pinterest - Google Plus - StumbleUpon - YouTube