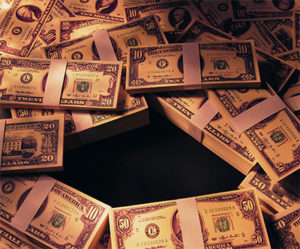 One of the things I worried about before getting married was how we were going to set up our finances as a married couple. I've always had control of my money and I wasn't sure how I felt about sharing that control in the form of a joint account. I've heard of too many horror stories where disputes over money tore families apart.
Luckily for us, we came up with a great way to set up our finances that allows us to be both responsible to the family and free to make our own decisions. It has been working so well, I am going to share it with you step-by-step in this article.
I'll first introduce the strategy and then address the common concerns.
Step 1 - Pool together all your assets
This is pretty much everything you own (cash, property, cars, etc.). We kept our retirement accounts separate because it seemed easier that way.
Step 2 - Put all the assets into a joint account
Put everything you can in your joint account but don't cancel your individual accounts. This may be tougher for your retirement accounts. We left ours in our individual names. Ideally it would be great to put everything in the joint account but it is important to be flexible.
Step 3 - Decide together on an appropriate amount for your individual discretionary accounts
Choose an amount that you both are ok with taking out of the joint account and dividing equally into your individual accounts. I highly recommend keeping the bulk of your money in the joint account or else this strategy won't work well. You also want to make sure you fund the individual account with enough money so it makes sense. I would say 3 months of your non-essential expenses (eating out, splurge purchases, gifts, etc.)
Step 4 - Transfer the agreed upon amount to each person's individual account
Make the transfer of equal amounts from the joint account back to each person's individual accounts.
Step 5 - Set up the rules for the joint account
Create rules to govern the joint account. Here are our rules:
All income goes into the joint account

and after all joint expenses are paid (this includes a percentage of money we want to save), we distribute the "profits" into our individual accounts. This ensures that all the important expenses are taken care of and that no individual can put the family in danger with irresponsible spending habits.
Joint expenses are paid by the joint account and individual expenses are paid by the individual discretionary accounts. Expenses approved by both people will be paid using the joint account:
Mortgage and family vacations gets paid from the joint account
My new laptop or my wife's new handbag will be paid from our individual discretionary accounts
When I eat out with my friends, it comes out of my discretionary account. If my wife joins us, we use the joint account
Each person controls their own discretionary account. We never nag each other about how we are spending the discretionary accounts and we

don't need to ask each other for permission to spend from our individual accounts

. If you happen to spend all the money in your discretionary account, you will have to wait for the next profit-sharing. We found that this was a great way to save and to prevent the scenario where one person feels "cheated" because the other person spends more than they do when they pool their assets together.
The frugal one in the relationship should manage the joint account (highly recommended).
Step 6 - Adjust the plan to fit changing needs, lifestyles and/or financial goals
This strategy is only a guide for you to use. Our situation is different from yours so it is important to understand the concept but then to adapt it to your own situation. I know we will modify this strategy as we learn more about ourselves and as our situations change but at the current moment, we are happy with this setup.
Here are some Frequently Asked Questions about this strategy:
Can you give me an example?
Here is a hypothetical example:
My spouse and I have $50,000 each in savings before we got married.
After the wedding, we put all our assets in the joint account so now the joint account has $100,000. We decide that we will put $10,000 in each of our discretionary accounts to start.
So now the joint account has $80,000. My wife's account has $10,000. My account has $10,000.
All income goes straight into the joint account. My wife makes $7000/month. I make $3000/month. Our joint monthly expenses are $6000 for mortgage and $1500 for all other expenses in this example month. We first pay off all expenses for the month ($10,000 - $6000 - $1500 = $2500). We decide we want to save 80% of what's left after paying our expenses ($2500 * 0.8 = $2000).
Total left for profit distribution: $500 ($250 to my wife's account and $250 to my account)
So for this month, the joint account has $82,000. My wife's account has $10,250. My account has $10,250. (Assuming we didn't spend anything in our discretionary accounts)
In the months where expenses exceed income (vacation or unforeseen expenses), there is no profit distribution. If you haven't start doing so already, I highly recommend keeping track of your net worth.
What if I make much more than my spouse?
I don't see the point of getting married if you don't intend to share everything with the other person or trust them enough to pool together your money and build up a big joint account. Why shouldn't they have access to your money if you plan to get married? Really think about what you are afraid of or what is "unfair" about the situation. Imagine yourself in your spouse's shoes. If your spouse made a lot more money than you did, would it be unfair then?
What if we don't have enough "profits" left over for our individual accounts? I won't be able to buy what I want?
This strategy is created to help you be responsible while giving both people in the relationship freedom to spend. This is assuming you are making enough for discretionary spending. If there are no "profits", either your expenses are too high or your incomes are too low. In both cases, you would work together and make more money or spend less money.
I think it is a great plan but my spouse won't agree to it. What should I do?
Talk to your spouse and ask why they don't like the strategy. Show them the benefits that you see in this strategy. If they still refuse, there is not much you can do (although refusal to adopt this method may be warning signs of fear or mistrust). Unfortunately, this strategy only works when both partners cooperate and agree to work together.
If you found this article helpful, feel free to send it to anyone else you think might benefit from this strategy. Also, if you have your own financial strategy that works for you, please share in the comments section.
Robert Chen is the founder of Embrace Possibility and author of The Dreams to Reality Fieldbook. He helps people who feel stuck move forward by guiding them to see other possibilities for their lives. He specializes in working with high performers get to the next level. If you're going through a tough time right now, check out Robert's article on How to Feel Better Right Away and if you're having trouble getting what you want out of life, check out How to Always Achieve Your Goals.
More Posts - Website - Twitter - Facebook - LinkedIn - Pinterest - Google Plus - StumbleUpon - YouTube