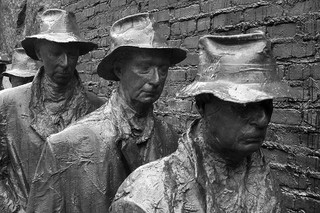 It's hard to be unemployed.
Whether you've just lost your job or you've been looking for some time now, the uncertainty can be both frustrating and scary.
In an interview with LocalJobNetwork.com, I discuss how people hold themselves back from getting a job and share tips for helping them improve their chances for employment.
To listen to this interview, click here.
For more insights, check out the following articles:
What to Do When You Lose Your Job
Job-Search Mistakes You Don't Realize You're Making
Why Going Back to School is a Bad Idea
Remember: Take responsibility for your situation and stay positive
If you have any questions, write them in the comments section and I'll be sure to respond. This way others can benefit from the answer if they have a similar issue.
Photo by woodleywonderworks
Robert Chen is the founder of Embrace Possibility and author of The Dreams to Reality Fieldbook. He helps people who feel stuck move forward by guiding them to see other possibilities for their lives. He specializes in working with high performers get to the next level. If you're going through a tough time right now, check out Robert's article on How to Feel Better Right Away and if you're having trouble getting what you want out of life, check out How to Always Achieve Your Goals.
More Posts - Website - Twitter - Facebook - LinkedIn - Pinterest - Google Plus - StumbleUpon - YouTube