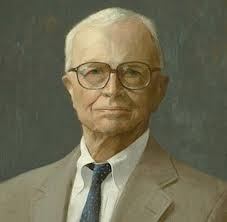 William Zinsser, American writer and teacher, passed away at the age of 92 this past week.
I had the privilege of meeting Bill a few years ago when I interviewed him for the Modeling Success Series. In addition, to the wonderful insights from that interview, we built a relationship that has been invaluable to me. I'm sadden by the loss of this great man to the world. His spirit and teachings live on.
Here are three lessons he taught me with both his actions and words:
Follow your passion
The first advice Bill gave me was to stop trying to please everyone and to do what you are made to do. Only when you do what you love can you convey a real sense of enjoyment in working. What's compelling about Bill's advice is that he leads by example. He gave up the comfortable success of taking over his family's business and pursued his passion for writing. His attitude of enjoyment, focus on excellence and fearlessness around failing not only made him wildly successful but also timelessly inspirational.
Be generous
Agreeing to be interviewed, allowing the interview to span a few hours and being a mentor afterwards are all testaments to Bill's generosity with both his time and advice. Throughout his career, he empowered others by giving them permission to write about themselves and cling to their originality.  Around the age of 90, he continued to proactively reached out to others with a letter offering help for "writing problems and stalled editorial projects and memoirs and family history; for singalongs and piano lessons and vocal coaching; for readings and salons and whatever pastimes you may devise that will keep both of us interested and amused."  This snippet really shows the type of person that he was.
Explore and learn continuously
If you've ever read Bill's books or articles, you know that he enjoys traveling and broadening his horizons.  He mentioned to me that the more you learn and stretch your comfort zone, the better your ability to generate uniqueness. That's how others connect to you. By doing something you've never done before, you'll learn something about yourself that you didn't know before.
Bill had a magnificent obsession to help others be who they were meant to be through his writing and teaching. I aspire to follow his lead and help others live their best life by sharing not only my experiences but showing by example.
Thank you Bill for stepping into my life. It has made all the difference.
(For more of Bill's insights and to hear some of his actual responses from the interview on audio, click here)
Photo by madnessofart
Robert Chen is the founder of Embrace Possibility and author of The Dreams to Reality Fieldbook. He helps people who feel stuck move forward by guiding them to see other possibilities for their lives. He specializes in working with high performers get to the next level. If you're going through a tough time right now, check out Robert's article on How to Feel Better Right Away and if you're having trouble getting what you want out of life, check out How to Always Achieve Your Goals.
More Posts - Website - Twitter - Facebook - LinkedIn - Pinterest - Google Plus - StumbleUpon - YouTube