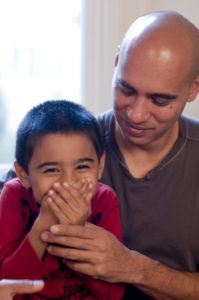 Most people believe that being successful is difficult. I used to think the same way but I've come to realize that it's not true.
There is a simple formula for success:
All you have to do is ...
...think, feel and act like a successful person.
That's it.
So why aren't more people successful?
It's because they think, feel and act based on their guess of what a successful person thinks, feels and acts like. Unfortunately, their guess is usually wrong and they end up thinking, feeling and acting in a way that does not help them become successful.
So what is the lesson here?
Don't assume or speculate. If you want to find out how successful people think, feel and act,
Just Ask Them.
There are out there, more accessible than ever and willing to give back by sharing their experiences. All you have to do is ask and then model how they think, feel and act. How do they tackle tough situations? What is their definition of failure? How do they handle setbacks?
The great part about modeling is that you can cherry pick the qualities you want and ignore the qualities you don't want.
But what if I really can't find anyone to model?
Enter the Modeling Success Series.
In this series, I will be posting exclusive interviews with people I consider to be extraordinary and successful who I model myself after. We all have different definitions of success and extraordinary so it is for you to decide how valuable each article in the series is to you. If you have any nominations, feel free to send them my way.
I am honored to kick off this series with Leo Babauta.
Leo is a simplicity blogger & author. He created Zen Habits, a Top 25 blog (according to TIME magazine) with 200,000 subscribers, mnmlist.com, and the best-selling books focus, The Power of Less, and Zen To Done.
Babauta is a former journalist of 18 years, a husband, father of six children, and in 2010 moved from Guam to San Francisco, where he leads a simple life.
You can check out his full bio here.
Due to our busy schedules, we conducted this interview via email so the interview will be presented in a questions and answers format.
Here is the interview:
Robert: Hi Leo, what are some of the things you are working on these days and how do you decide what you want to focus your energy on?
Leo: I've been working with a group of readers who've joined my Sea Change Program -- a membership program designed to help people change their lives, gradually but completely. As an example, we had a two-month course called The Mindful Diet, where they learned to change their eating habits by eating mindfully, and soon I'll be running a course called Unprocrastination. I focus my energy on things that excite me, and that I think will help people most.
Robert: What would you say are the major contributors to your success? Were any of these unexpected?
Leo: I've learned to focus my energy on the things that matter -- creating content that people want, rather than focusing on stats, SEO, social media, etc. I think my writing about simplicity and habits tapped into a need that was out there that I completely didn't realize until Zen Habits started taking off (in the first six months). So yes, this was completely unexpected.
Robert: Was there a distinct moment on your journey when you went from faith that everything will work out to absolute certainty? If so, what made it possible to make that shift?
Leo: I never had faith or certainty that things would work out, and still don't. I don't believe in worrying about what might happen as a result of my efforts, as it's impossible to know -- I prefer to focus on the efforts. I do know that I quit my day job a year after starting Zen Habits, because I'd paid off my debt and was making as much money as I'd made in my regular job … but even at that point, I had no idea whether it would work out. I still don't, except that if I'm enjoying what I'm doing, then things have already worked out.
Robert: What are you thinking about when you are writing your blog and creating products and services?
Leo: I think about the reader. I think about what problems the reader might be facing that I can help with, based on my experiences. Then I do my utmost to help. That's all I do, ever.
Robert: You are certainly very productive (creating a successful blog, raising 6 kids, actively exercising, writing best-selling books, creating content for your membership site, etc.). How do you prevent these activities from distracting each other and what have you noticed are your most effective ways to get things done?
Leo: I do one thing at a time, and focus only on that. Single-tasking is the most effective way for me to get anything done.
Robert: What advice would you give someone who feels underrated and not sure if it is possible for them to live their life to the fullest?
Leo: It's impossible to know if you going to live life to the fullest, so don't worry about that. You might live an amazing life, but how would you know if you lived it to the fullest? Maybe there was more you could have done? Instead, focus on enjoying the present moment, and doing what you're passionate about right now. If you live life as a series of happy, content, passionate moments, you can't say you did anything wrong.
Robert: Thanks Leo!
So what will I model?
Single tasking - Do one thing at a time
Focusing on the audience and solving their issues
Live more in the present moment and stop worrying about whether things will work out
What will you model?
Photo by
Eartha Goodwin
Robert Chen is the founder of Embrace Possibility and author of The Dreams to Reality Fieldbook. He helps people who feel stuck move forward by guiding them to see other possibilities for their lives. He specializes in working with high performers get to the next level. If you're going through a tough time right now, check out Robert's article on How to Feel Better Right Away and if you're having trouble getting what you want out of life, check out How to Always Achieve Your Goals.
More Posts - Website - Twitter - Facebook - LinkedIn - Pinterest - Google Plus - StumbleUpon - YouTube