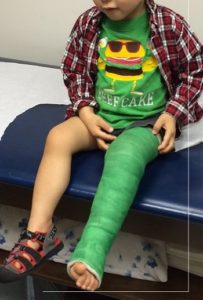 My two-year old son, Jake, fractured his shin a few weeks ago and had to wear a full leg cast.
As a parent, I imagined endless whining and moping and an annoying summer all around. Surprisingly, that didn't happen. He didn't even cry at the doctor's office.
I've never been in a cast before but I would  imagine it being an irritating and uncomfortable experience at best. Which is why my son's non-reaction to this entire experience amazed me.
Jake adjusted to the cast immediately and  acted as if the cast has been a part of him all of his life. He climbed on things and moved about just as much as before. He slept well and didn't complain at all.
Despite his good mood, everyone felt sorry for him.
We certainly did.
My parents especially.
All of our friends as well.
Strangers too.
Everyone would ask him if he's okay and the question puzzled him - "why wouldn't I be ok?"
Perhaps ignorance is bliss but Jake's response taught me an important lesson:
When facing setbacks or unexpected misfortune, act as if it was planned and meant to be.
If we adopt this mindset, the entire focus changes away from the past and into the present. By staying in the moment, we pay attention to what we can do to continue moving forward with our lives.
This is easy to understand yet difficult to do because we are fighting our natural response to pity ourselves. We've been conditioned by watching others who become sad and regretful, blame others or complain non-stop when something goes wrong. When we experience a setback, it's easy to feel that life has been unfair to us and now we are entitled to special treatment or at least a good excuse to be a bit more self-centered.
Although this is the common reaction, it's hardly an effective one. Think back to when something bad happened to you and you just moped or got angry with those around you. There are typically no winners in that situation. You're not in a better mood and now others are feeling bad as well.
Next time you get passed over for your promotion, rejected by your love interest or fall ill unexpectedly, act as if this was meant to happen and a normal occurrence. This mindset of acceptance will help you get on with your life.
My four-year old nephew sums it all beautifully in a rhyme he learned in school:
"You get what you get but you don't get upset."
Pay attention to kids - they can teach us a lot.
Here is another one I learned from babies on how to always achieve your goals.
Update - My son's cast is officially off  and right before his first day of daycare. What great timing!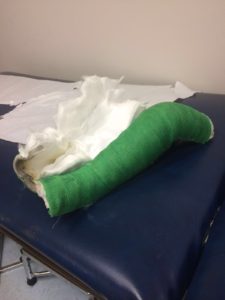 Robert Chen is the founder of Embrace Possibility and author of The Dreams to Reality Fieldbook. He helps people who feel stuck move forward by guiding them to see other possibilities for their lives. He specializes in working with high performers get to the next level. If you're going through a tough time right now, check out Robert's article on How to Feel Better Right Away and if you're having trouble getting what you want out of life, check out How to Always Achieve Your Goals.
More Posts - Website - Twitter - Facebook - LinkedIn - Pinterest - Google Plus - StumbleUpon - YouTube