I live thousands of miles away.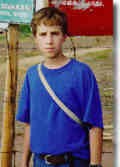 I don't know the first thing about being an activist.
I'm only 12 years old. 
These were among many of the valid excuses that Craig Kielburger could have made and we wouldn't have thought any less of him.
What makes him an inspiration is that he didn't make any excuses, he just went for it.
For those of you who don't know Craig, here is a short bio from Free The Children, the movement that he started that changed the lives for many children all over the world:
One day while searching for the funny pages in the newspaper, a morning ritual, 12-year-old Craig Kielburger was stopped by a headline that read, "Battled Child Labor, Boy, 12, Murdered." Iqbal Masih, a Pakistani boy, had escaped child labour at age nine to become a leader in the movement against bonded labour and child slavery. He was eventually shot and killed for speaking out.

Craig brought the article into his Grade 7 class to ask if anyone would help him continue Iqbal's fight. Eleven hands shot up, and Free The Children was born. Since that day, Craig and his friends haven't stopped. He has travelled the world, learning from thousands of forgotten and voiceless people, and giving inspirational speeches to world leaders and youth.
You can learn more about Craig's story here.
Every time I read about Craig, I get inspired. It reminds me of how petty my excuses are and how I limit myself with beliefs (i.e. I'm too young, I'm just one person, etc.) that just aren't true.
If a 12-year old can lead a group 7th graders to effectively change the world, is there any reason I shouldn't go for my dreams and fulfill my purpose.
The answer is no and that is why I am following my passion to help others reach their full potential through my workshops, private coaching and this blog.
How about you?
Have you been making excuses?
Are those excuses still valid?
If not, what are you going to do about it?
We all need to be inspired once in a while and I would love to hear your inspirational stories whether it's your own or someone else's that really inspires you.
Robert Chen is the founder of Embrace Possibility and author of The Dreams to Reality Fieldbook. He helps people who feel stuck move forward by guiding them to see other possibilities for their lives. He specializes in working with high performers get to the next level. If you're going through a tough time right now, check out Robert's article on How to Feel Better Right Away and if you're having trouble getting what you want out of life, check out How to Always Achieve Your Goals.
More Posts - Website - Twitter - Facebook - LinkedIn - Pinterest - Google Plus - StumbleUpon - YouTube