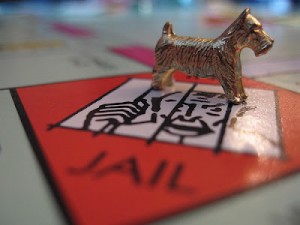 I thought I was free but really, I'm not.
To be free, I thought it was enough to live in a free country like the United States but it's not.
I thought it was enough to have a loving family but it's not.
I thought as long as I had my health, I'll be free but I'm not.
What I am missing to be truly free is ...
... money and lots of it.
I have come to realize that without financial independence, I don't have any freedom. I am unable to do what I want when I want to so I have begun educating myself on how to become financially independent. I have begun applying some of the most important examples from my research (click here for my recommended reading list, which includes books on financial freedom) and it is working.
The first step that I recommend is to get into a habit of saving at least 10% of your income and putting it into a savings account that you don't dip into until you reach your retirement age (Note: You can retire as soon as you hit your retirement number. No one says your retirement age has to be 65 or over.)
That's it.
That's the first step to freedom.
No matter what happens, take 10% from any income you get.  Automatically deduct it from your paycheck. Trust me, you won't miss it.  You'll be just fine with what you have left to spend.
Robert Chen is the founder of Embrace Possibility and author of The Dreams to Reality Fieldbook. He helps people who feel stuck move forward by guiding them to see other possibilities for their lives. He specializes in working with high performers get to the next level. If you're going through a tough time right now, check out Robert's article on How to Feel Better Right Away and if you're having trouble getting what you want out of life, check out How to Always Achieve Your Goals.
More Posts - Website - Twitter - Facebook - LinkedIn - Pinterest - Google Plus - StumbleUpon - YouTube