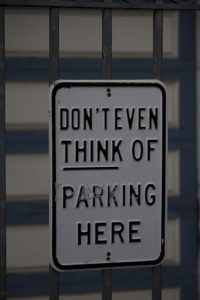 Tell yourself to stop reading this article now.
Seriously, don't read any further.
If you're still reading and you've read up to this line now, you have proven exactly why telling yourself to stop doing something never works.
Just for emphasis:
Don't think about what you had for dinner last night.
Out of all the possible things you can be thinking of, I can bet that you're thinking about what you had for dinner last night.
For some reason, your subconscious does not register your desire NOT to do something. Every time you tell yourself to stop thinking about or doing something, your mind will end up making it happen. Just think back to the time you told yourself not to mess up or not to be nervous.
Frustrating, I know.
So what can you do?
Be conscious of "negatively" stated desires and state your goal, desire or outcome in POSITIVES. It takes some getting use to but here are some examples to get you started.
I don't want to be nervous = I want to stay calm

I want to stop procrastinating = I want to be focused

I want to lose weight = I want to live a healthier lifestyle
When you catch yourself stating your goals or wants in a negative way, remember that you've read to the end of this article despite telling yourself to stop reading in the very first sentence.
It takes the same amount of energy to state an outcome in the negative or the positive, so use the one that works.
Robert Chen is the founder of Embrace Possibility and author of The Dreams to Reality Fieldbook. He helps people who feel stuck move forward by guiding them to see other possibilities for their lives. He specializes in working with high performers get to the next level. If you're going through a tough time right now, check out Robert's article on How to Feel Better Right Away and if you're having trouble getting what you want out of life, check out How to Always Achieve Your Goals.
More Posts - Website - Twitter - Facebook - LinkedIn - Pinterest - Google Plus - StumbleUpon - YouTube