Published: October 2011
ISBN-10: 0062120999
EP Rating: 5 out of 5 (must read for business leaders)
EP Main Takeaway: Great leaders reject the idea that forces outside their control or chance events will determine their results. They accept full responsibility and maintain fanatic discipline, empirical creativity, and productive paranoia. They attract others by having a goal that is bigger than any one individual.
Great by Choice - best leaders (10X) didn't predict the future
They observed what worked, figure out why it worked and built their company around these proven foundations

Not more risk-taking, bold, or visionary
More disciplined, empirical and paranoid

Need to be able to scale innovation, not just be innovative
Figure out when to go fast and when not to; not all about going super fast
Change on the outside doesn't necessarily mean change on the inside
Race to the South Pole - 1911
learning from practical experience what works (apprenticed with Eskimos)
preparing with intensity all the time so he was ready if he and his team needed to dig deep
setting buffers for unseen events
presuming bad events will happen and having contingency plans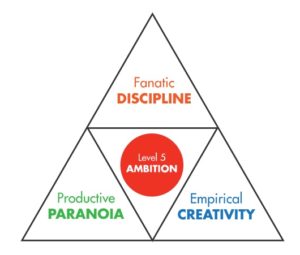 Qualities of a 10X leader
1. Fanatic discipline: shows consistency of action; rejects pressure to conform in ways incompatible with values, performance standards, and long-term aspirations
20-Mile March: set both lower and upper bound on growth;

Two discomforts: unwavering commitment to high performance and holding back in good conditions;
Designed and self-imposed by the enterprise; performance marker must be achieved with consistency ***

Helps build confidence to perform well in adverse circumstances;
Reduces likelihood of catastrophe and helps you exert self-control

;

Don't blame circumstance or environment; don't overextend yourself

Never too late to start the march
2. Empirical creativity: during times of uncertainty, look at empirical evidence, not to other people; rely on direct observation and practical experimentation and build deeper empirical foundation for decisions and actions**
10X companies are not always more innovative but they always deliver (Intel delivers)
Blend creative intensity with relentless discipline
Fire bullets, then fire cannonballs - figure out what works then pile on

Bullets are low risk, low cost,

and low distraction

Convert to cannonballs with successful ideas
Beware of uncalibrated cannonballs with good outcomes because it encourages the use of bad processes

You will only know if something works through empirical validation

, not pure analysis

Don't let discipline inhibit creativity or creativity to erode discipline
3. Productive Paranoia: "fear should guide you but it should be latent" (Bill Gates);
Don't believe your hype or in your invincibility; Believe 100% that conditions will turn against you without warning and prepare for it; channel paranoia into productive action
Build cash reserves and buffers to prepare for the unexpected: start and keep this from the beginning
Bound risk and know where your death line is - important to stay in for the long haul
Ask: how much time do I have before my risk profile changes?

Minutes, days, weeks, years?
Faster is not always better - take time to see how an uncertain situation unfolds but be ready to act fast

Zoom out then zoom into remain hyper-vigilant

to changing conditions

Are there new conditions? Does it change our plans?
"Think first even when you need to think fast"
What is the worst case scenario? What are the consequences and our contingencies?

Create and use a SMaC recipe to execute your strategy: Specific, Methodical and Consistent

Operating instructions - includes both Dos and Don'ts
Be stoic about what you cannot control but exert extreme control when you can - be SMaC!**
Try not to change your SMaC

often (like Constitution - ok to question and challenge but rarely change)

Figure out what works, understand why it works and use that info to understand when to change and when not to change

"Is our recipe not working because we lost discipline or has our circumstances fundamentally change?"
"The Signature of mediocrity is not an unwillingness to change; the signature of mediocrity is chronic inconsistency."

Embrace consistency and change, both at the same time
The role of luck: 
10xers get a higher return from luck than others

Getting a high return on luck requires throwing yourself at the luck event with ferocious intensity, disrupting your life and not letting up**
When bad luck happens, "10Xers use difficulty as a catalyst to deepen purpose, recommit to values, increase discipline, respond with creativity and heighten productive paranoia"
Don't count on luck to win
Level 5 ambition: channel ego and intensity into something larger and more enduring than yourself - focus on your cause, your company, your work; Choose goals by impact, contribution, and purpose if you want to attract others to help.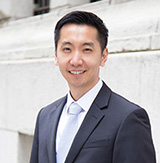 Robert Chen is the founder of Embrace Possibility and author of The Dreams to Reality Fieldbook. He helps people who feel stuck move forward by guiding them to see other possibilities for their lives. He specializes in working with high performers get to the next level. If you're going through a tough time right now, check out Robert's article on How to Feel Better Right Away and if you're having trouble getting what you want out of life, check out How to Always Achieve Your Goals.
More Posts - Website - Twitter - Facebook - LinkedIn - Pinterest - Google Plus - StumbleUpon - YouTube