As we get older, we tend to believe the cliché "You can't teach an old dog new tricks" because we've seen many examples proving it to be somewhat accurate.
There are people out there who don't know how to use a smart phone, shop online or send email. It is not because they don't have access to the know-how but rather they have come to believe that they are too old to learn.
Most older people have a hard time learning new things but it is not because of their age. It is because they make the conscious decision to stop learning even though they may not realize it.
Think about it.
When we are born, we are learning non-stop about how the world works. Everyone around us is helping by teaching us new words and expressions. As children, we explore the world trying to understand what crayons taste like, how to get our parents' attention, etc.
As we get older, we enter formal schooling where we learn continuously about social interactions (making friends, dealing with authorities, dating etc), hobbies (sports, musics, art, etc) and academic subjects (math, science, language, etc). After college or grad school, we enter the workforce learning about our job functions and office politics.
After we gain a certain level of expertise in our current job, we reach a critical point. Up until this point, learning has been somewhat mandatory but it is at this point where learning becomes optional. We no longer need to learn new things to survive. We can just occasionally update our knowledge and still be ok. This is the point where some choose to continue learning new things while others choose to stop learning.
Unfortunately, many people choose the latter. It could be because they are tired of learning and "just want to relax" or perhaps they feel that they've "graduated" and learned all they needed to know. Some even use the excuse that they can't learn anymore because they are old. Once they make this choice, a habit forms and that person's ability to learn, like any unused muscle, weakens.
Old people can't learn because they stop learning new things.
That is why it is important to live a life of continuous learning. If you want to be good at learning new things, then you must constantly learn new things. All the old people I know who are vibrant and energetic are always striving to learn new things and it is because they continue to learn that their brains stay sharp.
What new things have you been learning recently? If you are not learning anything new, are you okay with losing your ability to learn? Think about all the people who don't take advantage of the internet because they refuse to learn how to use it. What are you missing out on?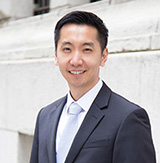 Robert Chen is the founder of Embrace Possibility and author of The Dreams to Reality Fieldbook. He helps people who feel stuck move forward by guiding them to see other possibilities for their lives. He specializes in working with high performers get to the next level. If you're going through a tough time right now, check out Robert's article on How to Feel Better Right Away and if you're having trouble getting what you want out of life, check out How to Always Achieve Your Goals.
More Posts - Website - Twitter - Facebook - LinkedIn - Pinterest - Google Plus - StumbleUpon - YouTube