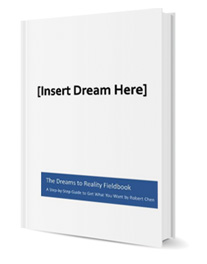 Have you ever wondered why some people accomplish so much more than you do even though they have the same 24 hours you have?
Are you tired of watching everyone else get what they want?
Are you ashamed of being jealous of your friends, family or strangers who are living the life you wish you had?
What if that could be you?
What if you were able to make the income you've always wanted?
How about taking a trip around the world without worry?
What if you could live life without regrets?
Would you be interested in that type of power?
You can't change your past but you can have the future you want by changing the actions you take right now. The purpose of this fieldbook is to show you how, step by step.
This fieldbook wasn't written to make you feel good. You're not going to find rags-to-riches stories or tips about affirmations and positive thinking. This book was designed to take any dream that you have and systematically turn it into a reality.
That's it.
My focus was to make this fieldbook comprehensive, easy-to-understand and as short as possible.
Who shouldn't buy this book?
Someone who hopes this book will work like magic with little to no effort on their part. This is not a lottery ticket. If you don't want to follow the steps, don't waste your time and money because this book won't help you if all you do is read it without stopping to take action.
Each chapter ends with specific action steps that you should take before moving on. There are only two pre-requisites for this fieldbook:
A dream
A desire and willingness to commit to pursuing your dream (this book explains why it is hard to commit and what you can do about it)
It doesn't matter if you don't know how to achieve your dream, that's why I wrote this book. All that matters is that you want to achieve it.
What will you learn?
How much you learn depends on your current knowledge and experience. What I can say for certain is that when you've finished the book, you will be able to:
Challenge beliefs and assumptions that hold you back from committing to your dreams
Properly set goals that will allow you to turn your dreams into possibilities
Create a practical plan that fits into your schedule to achieve your goals
Execute your plan to turn possibilities into reality
Overcome barriers that will arise when you execute your plan
Celebrate and repeat the process again
Only thing you need to bring with you is a dream, the desire to achieve it and the fortitude to take each step outlined in the book.
What will you get?
The Dreams to Reality Fieldbook saves you thousands of hours by distilling valuable information from hundreds of self-help books and personal mastery audiotapes into 65-pages. You can either buy the paperback version through Amazon or the ebook version, which you can instantly download once you've purchased it. Every idea in this book was handpicked for its effectiveness and practical use in my own life.
I purposely designed this book to be short because I want you to spend time working on your dreams, not on reading this book. I called this a fieldbook because it's designed to be applied practically in your life. The paperback version is small and easy to carry around with you. The current ebook version is meant to be read on your computer or tablet.
A Question for you
This book contains the information you need to get what you want in life. All you have to do is to follow the steps.
How much would it be worth to you if you were able to move your dreams from fantasy to reality?
Imagine yourself, after a year, accomplishing many of the things you've always wanted to do. How would you feel?
What would you be willing to pay if a clear guide that you can use over and over again helped you achieve more in one year than you've done in the last 5 years?
Would it be worth the raise in salary you can get following the steps in the book?
How about the cost of your monthly gym membership if it can help you reach your health targets?
The good news is instead of charging hundreds of dollars, I'm going to offer you this valuable fieldbook for a price that is cheaper than one movie ticket.
For only $11.95 (paperback) and $7.95 (ebook), you can get the guide that can literally change your life. I know this because it has changed mine.
We accept credit cards (pay through Paypal – no account required), Google Checkout and Paypal.
How much longer will you put off your dreams? How happy are you with your life right now? The faster you get started, the faster you'll get to where you want to go.
To make this decision even easier for you, I'm going to offer you a 60-day money-back guarantee. If you're not happy with the ideas, your results or my method, I don't want your money. My dream is to help people move forward in life with high quality products and services. Money is important but not as important as the trust I have with my clients.
When you're ready, simply click one of the buttons above, follow the process and get access to the book that will guide you to a fuller life.
Enjoy,
Robert