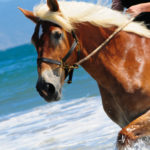 We knew we wanted to go but waited until the last-minute. Now the opportunity is gone.
We learned two lessons from this experience:
1. If you want to do something and you know you want to do it, then just do it. What are you waiting for?
2. When you miss an opportunity, don't dwell on it. Learn from it and think about what you're going to do next. Why waste the future thinking about the past, which can't be changed?
And that is why we are going to make the most of our day by getting a spa treatment and hanging out at the beach.
Is there anything you want to do but have been putting it off for no good reason?
Learn from our experience and just do it.
Robert Chen is the founder of Embrace Possibility and author of The Dreams to Reality Fieldbook. He helps people who feel stuck move forward by guiding them to see other possibilities for their lives. He specializes in working with high performers get to the next level. If you're going through a tough time right now, check out Robert's article on How to Feel Better Right Away and if you're having trouble getting what you want out of life, check out How to Always Achieve Your Goals.
More Posts - Website - Twitter - Facebook - LinkedIn - Pinterest - Google Plus - StumbleUpon - YouTube