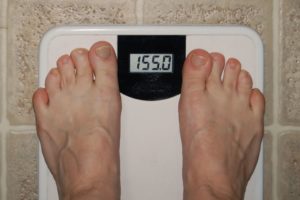 You are probably reading this because you are interested in losing or controlling your weight. No matter how hard you try, you can't get to the weight you want.
I've got some good news and bad news. The good news is, this short and simple post will show you how to get your desired weight.
The bad news is ... you probably won't believe me.
There are countless methods out there to control your weight and the logic in these methods is the same:
Your weight goes up when you take in more calories than you burn off and your weight goes down when you take in fewer calories than you burn off.
That's it. Nothing more nothing less.
So how can you get the weight you want?
Remember this key idea:
Your current weight is the sum of all your actions in the past year. 
What does this mean?
If you want to control your weight, you have to ... control your actions.
You alone have all the resources necessary to control your weight. You don't need a special diet, a personal trainer, a weight loss drug, etc. All you have to do is take responsibility for your weight and take action to get to where you want to go.
If you are looking to lose weight, find ways to take in fewer calories (healthier diet, proper rest) and/or burn more calories (exercise). More importantly, be aware of what prevents you from eating healthier, sleeping better or exercising more and create a plan to remove those barriers.
Remember: Your current weight is the sum of all your action in the past year. When you change your actions, you change your weight.
You have full control.
Robert Chen is the founder of Embrace Possibility and author of The Dreams to Reality Fieldbook. He helps people who feel stuck move forward by guiding them to see other possibilities for their lives. He specializes in working with high performers get to the next level. If you're going through a tough time right now, check out Robert's article on How to Feel Better Right Away and if you're having trouble getting what you want out of life, check out How to Always Achieve Your Goals.
More Posts - Website - Twitter - Facebook - LinkedIn - Pinterest - Google Plus - StumbleUpon - YouTube