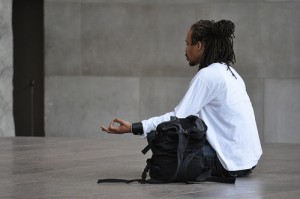 I was faced with a problem.
How do I meditate when I've never really meditated before?
What was meditation really?
Do I just sit cross-legged and chant "om"? How do I know if I am doing it right?
This desire to meditate all began when I realized that it was a great way to tame my mind (click here to read how that realization came about). I have experimented at home with sitting on the floor and being aware of my breathing but somewhere deep inside, I felt there was more to it than that ...
... and there was.
After reading Making Space by Thich Nhat Hanh, I learned more deeply about meditation. I found the idea of meditating with mindfulness instead of forgetfulness surprising because I always thought meditation was about "clearing the mind" which to me meant trying to forget where I am and "getting lost" in the meditation (whatever that means). One aspect I especially enjoyed applying to my meditation are the gathas (short poems you recite during meditation).
I am going to share with you a great way for someone who normally don't meditate to begin meditating:
The first thing to do is
STOP.
Consciously stop trying to do something. When I used to meditate, I would count the breaths and view myself as moving forward towards finishing the meditation. I was so preoccupied with accomplishing my daily meditation that I wasn't really meditating, just counting my breaths and sitting there waiting for my alarm to go off to signal I was done. Knowing now that stopping is the first step, before I even get into the sitting position, I visualize myself coming to a full stop (sometimes abrupt) and just opening my senses to what is around me. What do I hear, smell, see, feel and hear? I also stop during various parts of my day even when I am not officially meditating to practice. I find the visualization of coming to a full stop very effective for me.
Having stopped, it is then helpful to mindfully
BREATHE.
Here is where I try to balance with being aware of my breathing and actually controlling my breathing. I haven't yet been able to make a fine distinction since I feel that being aware of my breathing causes me to control it. There are two gathas (both from Thich Nhat Hanh's book) that I find helpful to recite during mindful breathing:
Breathing in, I know I'm breathing in.

Breathing out, I know I'm breathing out.
and the second one that I really enjoy using when I consciously breathe is:
Breathing in, I calm my body.
Breathing out, I smile.
I have began focusing on my breathing outside of my home meditation practice and it has been a valuable tool for me to relax my mind when I feel overwhelmed or frustrated. We know how to rest our bodies but I think many of us (myself included) don't know how to rest our minds (until now!).
As I mindfully breathe in stillness, I proceed to
SIT.
I have created a small area in the house where I sit to meditate. I sit indian-style (chrysanthemum for the people who know the lingo) mainly because it hurts when I try to sit in half-lotus (I'm not even going to attempt the full-lotus, at least not now). I keep my posture straight as if someone is pulling me up with a rope attached to the crown of my head. I am supposed to sit just to enjoying sitting but currently I am still trying to find the most comfortable sitting position and to concentrate on my posture and breathing. I am sure it will get easier with practice.
So there it is, a guide to meditation for people who don't meditate.
I'll end with this enlightening line from the book:
"Distraction only comes with forgetfulness, the absence of mindfulness."
I would love to hear about your own meditation practice and what you find helpful when you meditate.
Robert Chen is the founder of Embrace Possibility and author of The Dreams to Reality Fieldbook. He helps people who feel stuck move forward by guiding them to see other possibilities for their lives. He specializes in working with high performers get to the next level. If you're going through a tough time right now, check out Robert's article on How to Feel Better Right Away and if you're having trouble getting what you want out of life, check out How to Always Achieve Your Goals.
More Posts - Website - Twitter - Facebook - LinkedIn - Pinterest - Google Plus - StumbleUpon - YouTube